Of course you could spend a whole week in the Dominican Republic (DR) lazing about on a beautiful
playa
, reading trash fiction and sipping pina coladas out of freshly-cored pineapples. This was the way of my last trip to the
Casa de Campo
resort near the town of
La Romana
, when I finished Ken Follet's medieval man-centric sex epic
Pillars of the Earth
. This is still a highly recommended way to experience a tropical beach vacation.
But, as an avid diver, I decided to take a different approach this time, having resolved to leave no stone unturned when the opportunity to dive presents itself, which is practically anywhere there's water. As part of this ongoing mission*, it's a little strange that I didn't go diving last time I was in the DR, but you could chalk that up to me being seized with apathy, a dearth of cash, and not having a partner since Jill wasn't PADI certified at the time.
Having solved that last problem in Maui over Memorial Day weekend, I treated my mom and Jill to a diving excursion out to
Isla Catalina
, just a 15 minute boat ride from La Romana harbor.
So far, diving in the DR is a bit of an after thought. As such, there's very little evidence of good or bad diving available on the Internet at the popular diving websites. This leads most divers to believe the diving is bad, because otherwise there'd be something and this island would be more of a diving destination. The assumed thinking and pervasive reputation, by dint of lack of actual accounting, is that the DR is a crowded, clumsily and irresponsibly-industrialized island that has destroyed and over-fished it's reefs.
So going in blind, with scant impressions via first-party reports from here and there on the web, I had extremely low expectations. These weren't raised much when the diving outfit we ended up with turned out to be hitching a ride on a 100-person snorkel tour/booze cruise. (This booked for us via an under-the-table exchange with ex-patriot, unofficial tour director extraordinaire, Dave Black.)
There were six divers total, on this calaypso-playing, meringue dancing catamaran rum runner, including the 3 of us, two Frenchmen and a single Kazakh, the first I'd ever met. Joel, our divemaster, was a friendly Dominican who turned out to be an excellent dive master, when he could turn his attentions away from pawing my wife and mother.
Our first dive was The Wall. We dropped into warm, clear water with visibility in the 70' range and dropped down to 25 feet or so and kicked over to the eponymous wall for a cruise up and back at around 45 feet max depth. My impressions immediately centered on the health and vitality of the reef. Having seen degraded reefs in Florida, Hawai'i and Mexico, I was expecting the grunge of bleached coral skeletons, but instead was treated to a reef as full of live as any I've seen outside of Palau. There wasn't manifest in great hard-coral growth, so much as a lushness of soft corals, gorgonians and abundant large tubular sponges. Amongst this there was great macro life going on with flamingo tongues, arrow crabs, cleaner shrimp and a host of colorful small fish and sea anemones. The highlight of the dive was a lionfish, which we spotted hovering in a nook in the wall. These fish are non-native invaders of the Caribbean from the South Pacific.
Outside of a lone wahoo, I didn't see much in the way of big animals, but there was an abundance of small groupers in the 18 inch range. This could be a good sign of things to come if Dominican diving gains popularity and the value of sustained preservation becomes more imminent and economically valuable.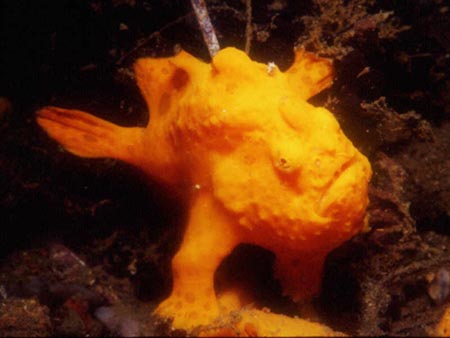 Our second dive, The Aquarium, is located just off an appealing beach on the North shore of Isla Catalina. This dive features a flat, sandy bottom butting up against significant hard-coral growth. Again our depth was 45 feet with 70' of visibility. Once again, we saw vibrant soft-coral life and perhaps even better macro than on the first dive. Five minutes in, Joel proved the worth of a local dive master and found a couple of seahorses, one black and the other canary yellow nestling in some coral. We spent a minute or two playing with these shy, passive creatures. He also found a large rock crab, several small, colorful moray eels, two grumpy, stone-like scorpion fish and a spotted skate. The highlight of the dive for me, was the orange, painted
frog fish
, I found perched on a coral head. A shockingly bright species of angler fish, these at first appear a piece of coral, but then you spot them as a kind of strange, half-fish, half mutant toad. About the size of a softball, it has stumpy little legs and claws it uses to guide it's sinking more than swim. Once on the bottom, it crawls around ambushing creatures its own size or smaller, a kind of coral reef gargoyle.
It was a great find, and one that I'd been looking forward to since I started diving. All in all, it capped a great two-dive day in the Dominican Republic and completely changed my malformed opinion of diving in the DR. As someone with some experience diving around the world, I would expect many seasoned divers would also have thoroughly enjoyed these dives. Neither were technically challenging, but we got to enjoy an unexpectedly vibrant reef with great surprises in terms of diversity of species and rare finds.
The irony of viewing this with a sugar refinery churning out smoke in La Romana in the visible distance was not lost on me. But it served perfectly to illustrate the contrast between the old Dominican economy and what I hope the future economy will be. I think there are signs the the DR is taking steps to adapt its approach to the environment to this eco-tourism oriented end. Given the health of the reefs around Catalina, and the abundance of small fish, notably groupers, I get the feeling that things are changing and better care is being taken of the DR's natural resources. I don't have much policy evidence to support this, but if my theory is correct, those small groupers will grow up and we may have experienced the tip of the iceberg of Dominican diving. I also hear great things about diving on the other side of the island in an area called Samana, where humpback whales spend the winter calving, and am looking forward to my next trip back here to continue my exploration of this large island's underwater environments.
*The Ongoing Mission; Places I've Dived:
Redfish Lake, Idaho
Lighthouse Reef, Belize
Turneffe Atoll, Belize
La Jolla Cove, California
British Virgin Islands (all of them)
Cabo San Lucas, Mexico
Nanaimo, British Columbia
Cape Cod Bay, Massachusetts
Connecticut River (beneath Ledyard Bridge), Hanover, New Hampshire
Ocean City, Maryland
Cabo Pulmo, Mexico
Key West, Florida
Palau
Makena Beach, Maui, Hawaii
Isla Catalina, Dominican Republic